About Our Confinement Agency Singapore
We are a confinement nanny and maid agency in Singapore.
We have created the perfect mix of both worlds, guaranteeing and safeguarding your deposit should our nanny go missing in action. As an approved confinement nanny agency by the Ministry of Manpower (MOM), the services of NannyStreet are as excellent as competitors but at a much lower processing fee. Rest assured that our dedication to customer service can assist you with any inquiries you may have.
NannyStreet VS Confinement Agency/Freelance
Combines The Best Agency and Freelance Confinement Nanny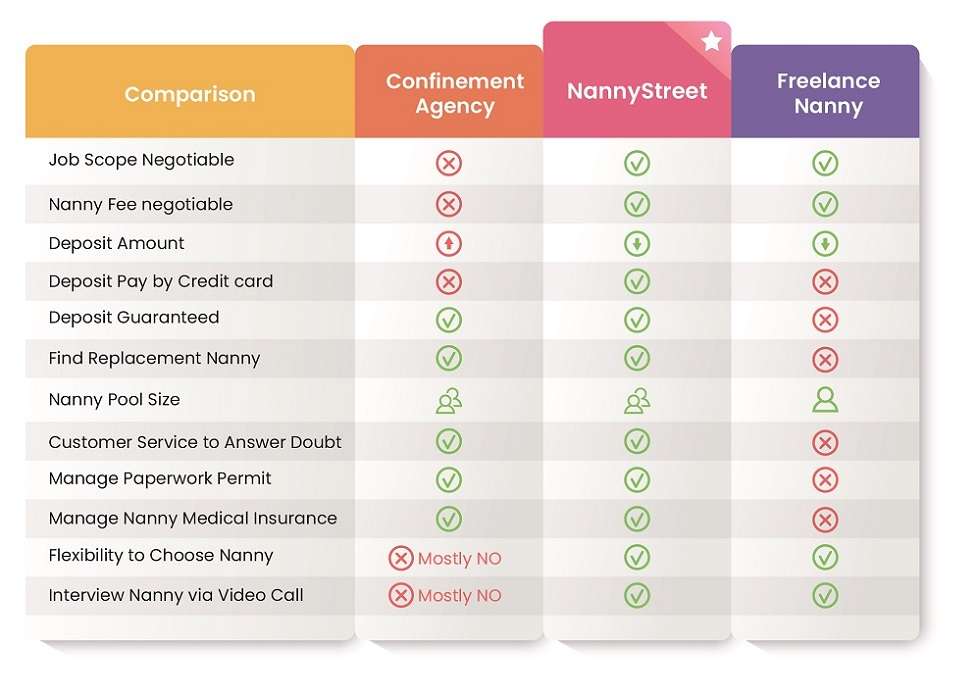 "
Just like an Agency

, get the convenience
of applying for a permit and secure your deposit
~ and ~
Get to have a voice and video call with the nanny,
just like




Freelance

"
Book a Trusted Confinement Nanny in 3 Easy Steps
Simplify The Confinement Nanny Hiring Process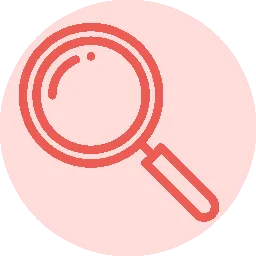 Submit your estimated due date (EDD) and confinement nanny criteria.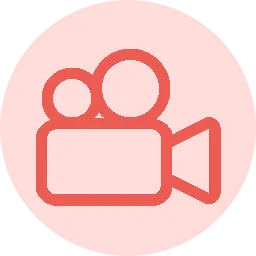 Negotiate job scope and pricing with confinement nanny via text message or voice/video call within apps.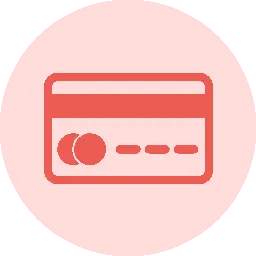 Pay the deposit using your credit card in the NannyStreet app to book your selected confinement nanny.
How does NannyStreet Work?
Click the button below to get for more info.
Testimonial About Our Confinement
Agency From Our Happy Clients
We did our first pregnancy without a confinement nanny, and I wouldn't recommend it to anyone. For our second pregnancy we went with NannyStreet after a number of recommendations and researching different agencies.
NannyStreet was able to find us a confinement nanny that could speak English and provide the support we needed, for our delivery timing. They were extremely easy to deal with, and arranged all the work permit issues and insurance on our behalf.
Compared to other confinement agency, yours is different… the rest they just match you.. also not able to communicate directly with the nanny prior to the start.
Your app at least we can choose who is more suitable for us.. suitable or not only we ourself know ma… might be good for you but not suitable for me also no use.
Thk u so much for ur help !! I will definitely intro my gf yr app. It's so easy to use
Ask Confinement Nanny Price
Drop your details below to learn more about our services
Trusted Confinement Agency in Singapore
When hiring a confinement nanny, make sure you have all the details ironed out before the interview is finished. If you are hiring a stay in nanny, you will want to make sure you have a place for them to stay. If you plan on having them stay in the living room, it is wiser to opt out for a stay out nanny.
Most importantly, discuss their job scope, salary, Ang Bao amount, working hours, nap times, and others. NannyStreet will provide a basic guide to assist you in negotiating with them.
Our confinement nanny marketplace in Singapore has a large number of confinement nannies who are experienced and passionate about their work. They are all friendly and eager to help any mum who needs it. Our confinement nanny will be with you to help you during your confinement period, from cooking your meals to tending to your baby.
Our confinement agency is dedicated to providing quality service to all mummies in Singapore. We have a wide range of confinement nanny services to accommodate your needs through one easy platform. Choose your nanny based on your budget, needs, and the job scope you have for them from your phone.
We are here to ease your mind during this special time. Through our app, you can have a one-stop shop for all your confinement nanny needs at NannyStreet. Book your confinement nanny with us. Our confinement nanny agency will take care of all the formalities of hiring them, including taking care of all the documentation and everything you need during your confinement period at a small paperwork fee.
Whether you wish to find a long-term babysitter after your confinement or want to transfer a friend's or family's maid to your household, our confinement agency can assist you with the paperwork or find the right one. Through our network, we can help you find the right person for your needs in one simple click.
We provide the essential nanny services you need, and we are confident that one of them will meet your requirements. We can assist you with the transition so that you and your new nanny are comfortable in the new working environment.
NannyStreet strives to make mummies' experience as pleasant as possible. By accessing confinement nannies through our marketplace, you can find and hire your nanny through an app with a simple user interface.